Dear Residents and Families,
The past nearly two years has not been an easy time for any one of us, with COVID-19, no matter what our circumstances; and it seems that we will be on this journey for an unknown period. For MLP Residence, this pandemic has meant faithful unwavering devotion by our team, tireless work ethics by all who work at MLP, and firm decisions with respect to policies and operations – carefully balanced with compassion and caring – for the safety of all who reside and work at our beautiful location.
As the winter season is upon us, many of us in healthcare were hoping by this time the pandemic would be behind us. Yet, one of the top news stories for the past several weeks is the hurtling spread of the COVID Omicron variant. This variant, which is more infectious than the original, has infected many around the globe already.
At MLP Residence, we are so thankful that 99% of our residents and 100% of our staff are fully vaccinated. While the vaccine does not provide complete immunity to this variant it does provide a much better chance for lesser symptoms, especially with the highly contagious spread of Omicron. MLP Residence continues to remain vigilant, attentive, and dedicated throughout the challenges that have been brought about by the COVID-19 global pandemic. We have, and are continuously, assessing evolving pandemic data and directives which in turn guides our processes and preparedness plan, as we navigate and steer these uncharted waters. With the strong probability that Omicron will become the prevalent dominant strain within the next week, we have once again brought about some changes to our visitation policy and operational protocols. We all need to remain mindful that COVID-19 risks are still abundant, and a 5th wave is now likely. The changes shall be conveyed, via email, to all our residents and their families by our General Manager later this week.
We must all strive to keep this virus from entering our buildings at MLP. The terrific toll that this pandemic has taken on those working in healthcare, now has worsened further because of staffing issues plaguing every industry. Our MLP team members are no exception. We are intensely grateful for each and every one of them! They are remarkable people, and they are acutely tired. They need our prayers, patience, and encouragement.
The many encouraging, reassuring emails, phone calls and messages which we continually receive from our residents' families and members of the greater community are both reassuring and supporting. To have families express their kind and empathetic views about MLP along with their feelings of the extraordinary bond between our residents and our staff means the world to our entire team. Those who choose a career in senior care, do so with a special purpose and calling. We witness this passion each and every day.
We are truly blessed to be surrounded by so many wonderful and dedicated team members here at MLP Residence, and this has never been more apparent than during these unprecedented and challenging times. Our decisions are always grounded to provide safe, quality care while respecting and honouring the rights of each and every resident who call MLP their home.
As CEO, I am grateful each and every day to ALL members of the MLP Team who have worked long hours since March 12, 2020, and have shown resolute commitment to our residents, families, team members and all those who are well prepared to stay the course through the next phase of uncertainty. It is without a doubt the powerful combination of great staff, supportive families and committed leadership that keeps us strong. We will emerge victorious as we journey through this pandemic together.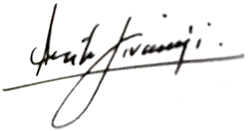 Anik Jivanjee
Chief Executive Officer
---