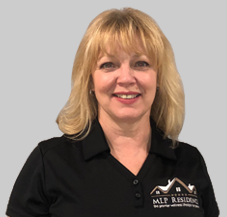 Helen Wells
Leasing Specialist
Ext. 502
Who is your favourite musician:
My musical tastes are far reaching, so I have many 'favourites'. As a musician and performer in addition to my work at MLP, I gravitate towards traditional jazz, early blues and classical.
Best Gift You Have Ever Received:
I would have to say that my best gift would be my husband, who is also my best friend.
If you could go back in time, what year would you travel to and why:
I would travel back to the year that family were all together for a big family Christmas.
What has your time at MLP Residence taught you:
MLP has taught me that joy, laughter, fun and the need for mutual respect and caring goes beyond the definition of age, and that everyone, regardless of age, have important stories to tell and share.