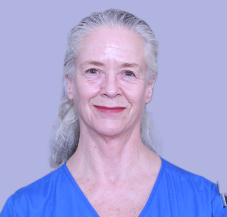 Sherry Orr
Care Services
Who is your favourite musician:
As I am aging and becoming more humble and grateful for my presence, I find I am enjoying music that relates to the strength of spirit. I love chanting hymns, opera, foreign languages like Spanish, and more recently the Indian language.
Best Gift You Have Ever Received:
The best gift I have ever received is my partner. He gave me the gift of joy. His spirit is light, while very grounded to the earth. I am of spirit so he is my balance with earth's connection.
If you could go back in time, what year would you travel to and why:
If I could go back in time it would be to the year 1989. My strength of spirit awakened. This was a journey of self, but not selfish. My year of physical accomplishment in body building championships. I overcame insecurities through training, which I recognized were not necessarily my own. My journey has awakened the depth of a strong spirit within me. Today I found joy in helping others with their strength of spirit, their voice within.