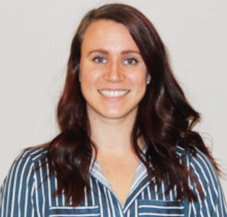 Katelynn Norman
Activity and Wellness Coordinator
Ext. 506
Who is your favourite musician:
I don't really have a favourite musician, but I do love many genres of music! Anything from rock to classical.
Best Gift You Have Ever Received:
My amazing, supportive family. They're always supporting my goals and dreams, and helped shape me to who I am today.
If you could go back in time, what year would you travel to and why:
I'd go back to the late 1990's to when my sister and I were little kids. I'd like to re-experience my childhood and all the memories we created, and appreciate them more. I used to wish my childhood away to be an adult and now I realize how important my childhood was.
What has your time at MLP Residence taught you:
My time here at MLP Residence has taught me to enjoy the simple things in life, stop and smell all the roses, and most importantly SMILE!