April 25, 2019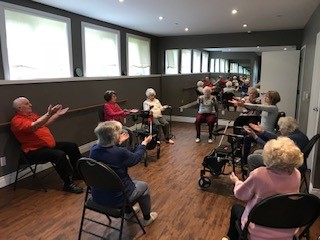 Chair yoga took place Wednesday October 24, 2018 in the exercise room, with a total of 9 residents participating. This yoga class focuses on gentle movements and deep breathing to promote relaxation and mindfulness.
As each resident walked by the Activity desk, only positive words could be spoken about the class. Betty M. joined yoga for the first time today and had such an amazing time it was all she could talk about heading up to lunch. Esther H. joined yoga today for the first time a while, and mentioned she should begin participating again as she felt relaxed after.
Michelle's last class will be October 31, but the class will continue on with Katelynn on Wednesdays from 11:00am-11:30am. Michelle will be greatly missed by all who participate!